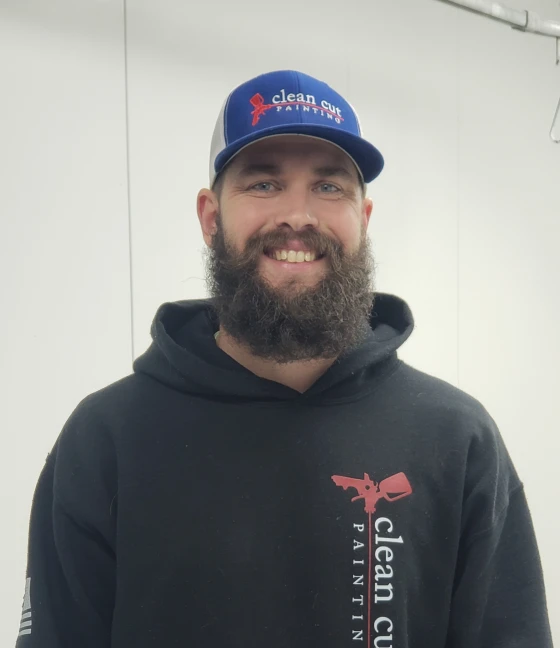 Thank You For Leaving Us A Review
"We are deeply grateful that you have considered Clean Cut Painting for your home painting needs. Our cherished clients have had exceptional experiences collaborating with us, and we invite you to explore their testimonials.
Our unwavering commitment to outstanding quality and service drives us to surpass your expectations. We would be honored if you could share your thoughts in a review after partnering with us. Your insights and endorsements are the lifeblood of our continued growth and success. Thank you for placing your trust in us!"
—Chris Soule, Owner Of Clean Cut Painting, LLC
Erica Anderson
April 27, 2023
Chris and his team did an excellent job transforming the outdated oak cabinets in our kitchen. The entire team was professional, friendly, and very hard working. Chris was great to work with - he was very responsive, accommodating, knowledgeable, and made sure every last detail was taken care of. I would definitely use Clean Cut again and would recommend them to anyone in need of painting services. *Updated my rating from 4 to 5 because almost a year later Chris reached out to check in on how the project is holding up. The cabinets still look beautiful, but they are chipping a bit in some high traffic areas (a risk we were aware of since we picked a very dark paint color). Chris immediately offered to touch up the cabinets for us to ensure they are up to his and our standards. You can tell Chris genuinely cares about his customers and is willing to go above and beyond. That's rare and very much appreciated.
Chris and his team were amazing. Always on time, communicating through out the entire process and did an excellent job. We're very happy with their work and I would highly recommend them.
Kaitlin Bernier
March 17, 2023
Chris and his crew have painted for us in the past. We knew that when we wanted to have our cabinets painted, he would be the only one we would trust. His crew was professional, clean, and detail oriented from start to finish. Our cabinets now look new. Thank you to the Clean Cut Crew for bringing our vision to life!
Phyllis Kurz
March 15, 2023
We used this business last year for our bathroom and were so impressed we asked them back to do our kitchen cabinets and another bathroom. Communication was excellent on when they were coming and what to expect each day. The crew did a spectacular job, my 27 year old kitchen looks brand new.
Caryn DeLisa
March 3, 2023
Clean Cut Painting is an exceptional company, and I will definitely be using them on future projects. I originally hired Chris and his team to paint my cabinets and walls but added other items to the job along the way. Throughout the whole process, Chris and his team were courteous, friendly, and transparent. Chris clearly communicated upfront what the process would be, how long it would take, and what the cost was. Any changes were discussed and agreed upon before the work started. There were no surprises. The team showed up on time each day, took care to protect my newly stained wood floors (and the rest of the house), and left my house clean and organized each night. Additionally, Chris and the team helped me think through the details and double-checked with me if they thought something would not look quite right. The results are beautiful. I highly recommend them to anyone looking for an honest, detail-oriented, professional team.
Tammy Raymond
March 2, 2023
Clean Cut deserves a huge round of applause – it feels like we've been given a new kitchen! We couldn't be more pleased with the job they did on our kitchen cabinets. From the very beginning to the very end, each interaction and communication was of the highest quality. Chris and his team were professional and knowledgeable about our needs and preferences. Even when we had trouble making decisions, Chris was always willing to offer his expertise. The experience itself was hassle-free and never disruptive to our daily lives. Everything was carefully executed with precision, and we were thoroughly impressed. We looked at some other businesses too, but Clean Cut exceeded our expectations in every area – they got back to us immediately, offered competitive prices, and were always very friendly. To sum it all up, I would definitely recommend them in a heartbeat and wouldn't hesitate to work with them again!
Sarah Spellman
March 2, 2023
Clean cut was fast, reliable, and friendly. We are so happy with the clean and fresh results!
Kevin Wallace
February 6, 2023
We recently used Clean Cut to paint our kitchen cabinets and they came out amazing! The staff we worked with were professional and friendly. We could tell they take pride in their work and made sure everything came out perfectly, including stopping by after the job was finished to resolve some minor issues. Pricing was also very fair given the amount of cabinets that we have. I would highly recommend them!
KIM BASCONI
February 4, 2023
Highly recommend Chris and his team! They were great to work with, very professional and perfectionistic. They explained everything well, finished every step of the project on time and my cabinets look brand new.