Kitchen Cabinet Painting In Marlborough
Modernize Your Kitchen With A Budget Friendly Update
Transform Your Kitchen With Cabinet Painting
Transform your outdated cabinets with our kitchen cabinet painting services in Marlborough. Our high-quality paints and techniques will give you a modern and high-quality finish that adds value to your home without the mess and hassle of a full-on remodel.
You can increase the beauty of your cabinets and improve their function with all the cabinet upgrades you need to make your kitchen cozy and functional for your lifestyle. So, stop stressing over your outdated kitchen; let us make it a showstopper with our professional cabinet painting services.
Popular Upgrades For Kitchen Cabinet Painting
Enjoy a color that makes you feel good every time you walk into your kitchen.
Add interest to your cabinets and make your kitchen feel larger with two-tone cabinets.
Elevate your kitchen cabinets with a charming touch of depth and dimension, creating a captivating and sophisticated ambiance.
Allow guests to engage in delightful conversation with you as you prepare a meal without being disturbed by any bothersome background noise.
Eliminate the banging sound of cabinets and relax in your quiet and peaceful home.
Have fun customizing your cabinets to match your style.
Enjoy the seamless, sophisticated look of cabinets with no visible hinges. 
Breathe New Life Into Your Kitchen
Upgrade your kitchen with our professional cabinet painting services in Marlborough and completely transform the space into a modern haven. Feel confident entertaining friends and family in a kitchen that reflects your style and personality.
You can choose the perfect color and finish for your cabinets to achieve a unique look you'll love! You don't have to live with outdated cabinets— completely change the look of your kitchen with our efficient cabinet painting services.
Kitchen Cabinet Painting Portfolio
Browse Our Portfolio To Get Ideas For Your Home
Before
After
Before
After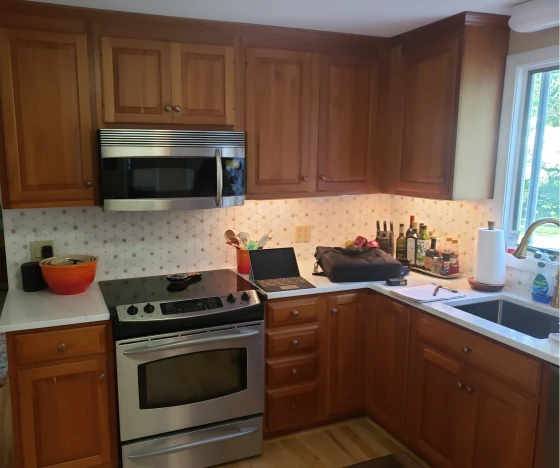 Before
After
Before
After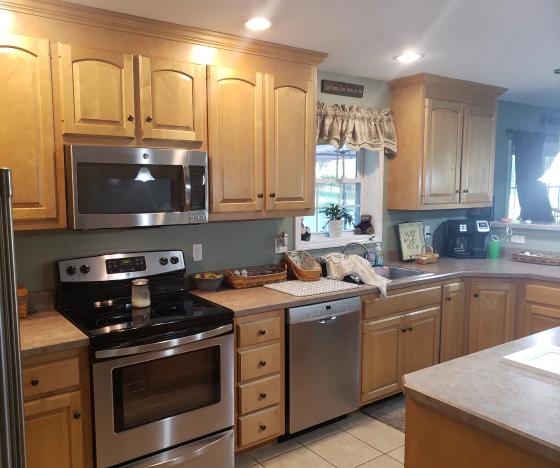 Your Home is Our Priority
Our Team Is Committed To Providing You With An Excellent Experience
Our focus is on delivering quality work and excellent customer service. You deserve our complete attention.
We offer an industry-leading lifetime warranty with a 5-year touch-up program included.
You will receive quality work from skilled professionals with up-to-date knowledge and practical problem-solving abilities
Kitchen Cabinet Painting Pricing
An Affordable Way To Upgrade Your Kitchen
Up To 20 Openings

Lifetime Warranty

Single Standard Color

Completed In 5 Days
30-38 Openings

Lifetime Warranty

Single Standard Color

Completed In 5-7 Days
40-50 Openings

Lifetime Warranty

Single Standard Color

Completed In 5-7 Days
*Prices are averages and may vary depending on the size of your project and the materials used. You will get an exact quote for your unique project after the on-site consultation.
You'll Know What To Expect At Each Step
Frequently Asked Questions
Do you brush or roll cabinets?
No, we do not. Our cabinet painting system has been designed from years of trial and error and uses the principles of automotive refinishing tools and techniques. We only spray cabinet-grade finishes on our projects to achieve an incredibly smooth "buttery" outcome that is impossible when rolling or brush-painting cabinets.
How durable will my painted cabinets be?
Our system has been designed and refined to achieve the most durable finish on the market. As with any finish, the better you care for the surface, the better the results will last. Just like a new car, keeping it clean and maintaining it will get you the most out of it.
What is the difference between stock and custom colors?
We can match any color from major paint manufacturers' color decks. Since there are unlimited options to choose from, we have selected the six most commonly painted cabinet colors to eliminate waste. We offer those colors at a discount since we can up-cycle them onto different projects eliminating up to 30% of wasted product.
How long does it take to paint cabinets?
We usually complete cabinet painting projects in 5 days on average. Of course, the job size and the number of colors can change the required time frame needed for completion. We discuss all of this in the virtual consultation.
Is there a minimum job size requirement?
We do not have a minimum project size for painting cabinets. However, a minimum investment of $3500 is required to cover the time and materials required for even small jobs.
Your Experience Is Important
Check out our reviews to discover what previous clients like about working with us.
Revive your home's interior and express your unique personality by choosing colors that speak to you.